Er. Srikrushna Kumar Agrawal
Director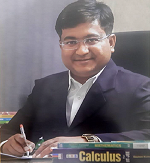 Srikrushna Kumar Agrawal completed his B-tech from Banaras Hindu University (BHU) in 1996. Srikrushna Kumar Agarwal is the perfect example of how the adversities in life can lead you to the greatest success in life and how in turn that can help you nurture the lives of the generations & beyond. Circumstances early on in his life led him to begin teaching during his B-tech days, which thereafter helped him to realize his passion for teaching and his innate ability to guide students into achieving their cherished dream of getting into the prestigious IITs and other engineering colleges.
---
Er. Prateek Upadhyaya
Director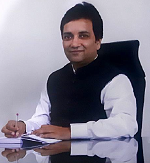 Prateek Upadhyaya did his B-tech from IIT BHU in 1998. He was junior to SriKrushna Agrawal and was passionate about teaching. He had started giving tuition early, during his college days, and it was from then itself that disciplined life has been his mantra. He believes in the wholesome development of mind and body and is deeply into meditation and music since early on. Prateek Upadhyaya has very successfully integrated music into the curriculum of CATJEE and this has helped students to be able to cope better in their academics and fare better in competitive examinations.